Press Release

<![if !vml]><![endif]>

from Plato Logic Limited, 14th October 2013

World Beer Market forecast to grow by just 1% in 2013.

Substantially influenced by a slowdown in China, global beer consumption was just 1.3% higher in 2012, with only around 1% growth also currently forecast for 2013, according to latest data from beer market specialists Plato Logic.

Ian Pressnell, Director of Plato Logic commented: "The global beer market is reflecting the slowdown in the world economy during 2012-2013, but we are optimistic that growth will pick up in 2014, when we could see the 2 billion hectolitre mark reached for the first time."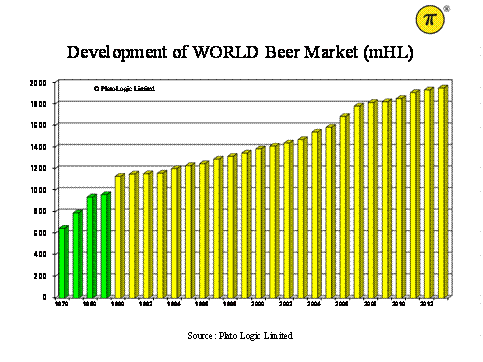 Looking at the 2013 projections in more detail, Plato Logic forecast net beer market growth of around +4% in the Asia/Pacific region and +2% in Africa, offset by a decline of -2% from Europe, with the Americas essentially flat or a little lower.
Plato Logic's latest annual "World Beer Report" is published 10th October and contains 2013 projections for all world beer markets.
Published every year since 1994, the Plato Logic "World Beer Report" is a standard source of reference and is used throughout the international brewing and allied industries.