Press Release
from Plato Logic Limited 21st September, 2010
World Beer Market forecast to grow between 1% and 1.5% in 2010.
Global beer consumption was marginally higher in 2009, and less than 1.5% growth is currently forecast for 2010, according to latest data from beer market specialists Plato Logic.
Ian Pressnell, Director of Plato Logic commented: "globally, the beer industry nevertheless continues to show resilience in the current economic climate; we are forecasting some recovery in 2010 and global beer consumption to reach over 2.3 billion hectolitres in 2020, according to our latest projections".
Chart –
Top 5 Global Beer Markets, 2009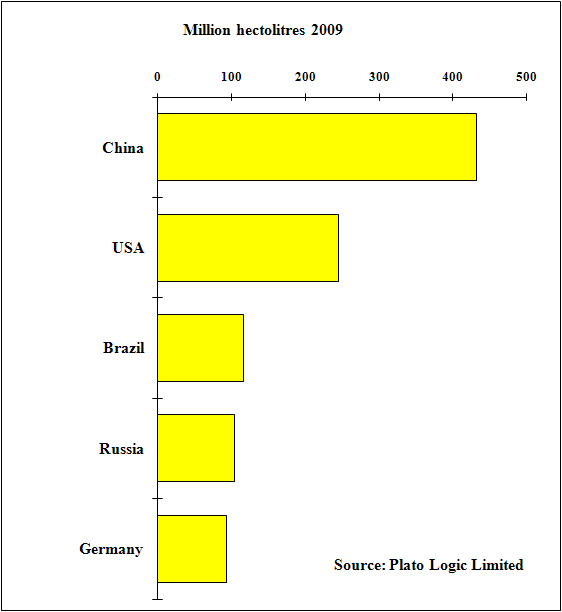 World's Leading Beer Markets, 2009, million hl (consumption)
Source: Plato Logic Limited
.
Looking at the 2010 projections in more detail, Plato Logic forecast the sharpest decline in beer consumption to be in Europe (-1.8%). Total volumes for the Americas region are projected to show low growth. The best performances are forecast for Asia/Pacific and Africa/M.East, with both regions projected to exceed 4% growth.
Plato Logic's latest annual "World Beer Report" is published 8th October and contains 2010 projections for all world beer markets.
Top Brands
Chinese brand Snow (range) became the world's leading beer brand in 2008, ahead of the two A-B InBev brands, Bud Light and Budweiser, a ranking maintained in 2009.
Chart –
Top 10 Global Beer Brands (ranges)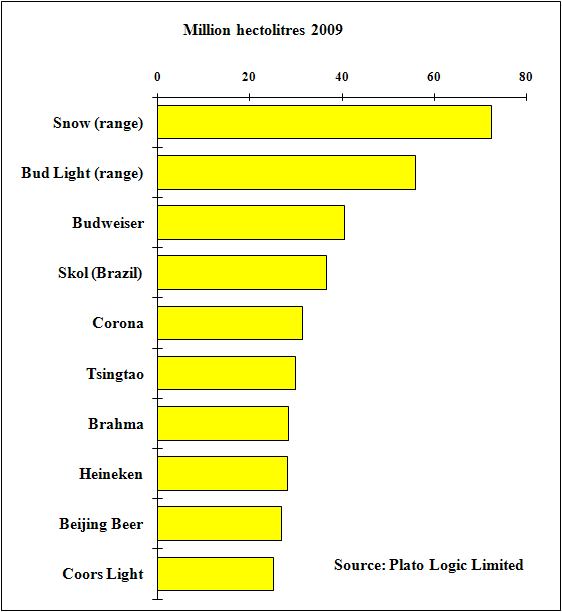 World's Leading Beer Brands, 2009, million hl
Source: Plato Logic Limited
.
Note: Bud Light includes Bud range e.g., Dry, Ice
Published every year since 1994, the Plato Logic "World Beer Report" is a standard source of reference and is used throughout the international brewing and allied industries.