Press Release
from Plato Logic Limited
World Beer Market growth slows in 2012 (provisional)
New Top 10 World Brewers Table announced (provisional/pro forma)
According to latest figures released by beer market specialists Plato Logic, the World Beer market grew by under 1.5% in 2012 (provisional). Ian Pressnell, Director of Plato Logic, commented: "Growth was lower than in 2011, however the development was uneven and the headline figure was dragged down by a weak last quarter in China. We estimate the US market returned to modest growth and that the Far East and Central Asia region, excluding China, grew by more than 4%."
Plato Logic have now prepared an updated
Top 10 World Brewers
league table, based pro forma 2012 volumes (latest estimates).
The chart shows that A-B InBev retain the number 1 spot, around 75mhl ahead of SABMiller in second place, followed by Heineken and Carlsberg. The 'Big 4' retain a combined market share of around 50% (pro forma 2012).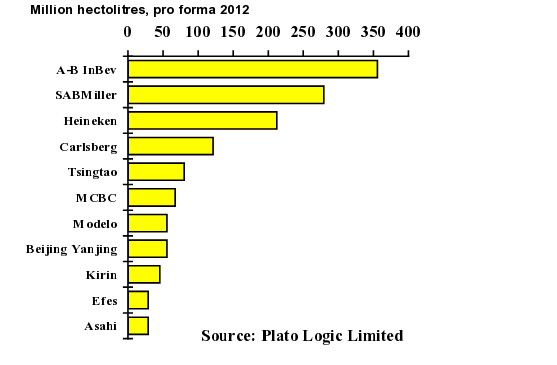 World's Leading Brewers, pro forma 2012, latest estimates, million hl
Source: Plato Logic Limited, February 2013.
Notes to chart: The A-B InBev figures exclude minority investments and Modelo. 'MillerCoors' volume allocated 50/50 to SABMiller and MCBC. SABMiller figures include 100% CR Snow and are adjusted for Foster's acquisition and Efes transaction. MCBC includes StarBev acquisition in East Europe; Kirin adjusted for Schincariol acquisition.
Some deals may be pending regulatory approval
.
For 2013, Plato Logic's current 'control scenario' assumes that world beer market growth will pick up a little, with growth of around 2-2.5% currently forecast.