Press Release
from Plato Logic Limited
World Beer Market growth shows further improvement in 2011 (provisional)
New Top 10 World Brewers Table announced (provisional/pro forma)
According to latest figures released by beer market specialists Plato Logic, the World Beer market grew by 2.7% in 2011 (provisional). Ian Pressnell, Director of Plato Logic, commented: "Overall the 'top-line figure' for 2011 (provisional) indicates further steady recovery, and represents an improvement on the 1.6% growth recorded in 2010 and the 0.4% growth recorded in 2009."
Plato Logic have now prepared an updated
Top 10 World Brewers
league table, based pro forma 2011 volumes (latest estimates).
The chart shows that A-B InBev retain the number 1 spot, around 85mhl ahead of SABMiller in second place, followed by Heineken and Carlsberg. The 'Big 4' retain a combined market share of around 50% (pro forma 2011). Beijing Yanjing move up the rankings, while Efes Group enter the Top 10 (pro forma basis) for the first time as a result of the recent transaction with SABMiller.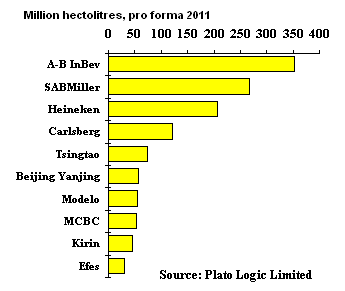 World's Leading Brewers, pro forma 2011, latest estimates, million hl

Source: Plato Logic Limited, February 2012

.

Notes to chart: The A-B InBev figures exclude Modelo and other minority investments. 'MillerCoors' volume allocated 50/50 to SABMiller and MCBC. SABMiller figures include 100% CR Snow and are adjusted for Foster's acquisition and Efes transaction. Kirin adjusted for Schincariol acquisition.

Some deals may be pending regulatory approval.

For 2012, Plato Logic's current 'control scenario' assumes that world beer market growth will continue at a similar pace, with growth of around 2.5% currently forecast.