Press Release, 5th November, 2008
World Beer Market advances 5.6% in 2007; below 3% forecast for 2008.
Global beer consumption grew by 5.6% in 2007, but a sharp slowdown to less than 3% growth is currently forecast for 2008, according to Plato Logic's latest "World Beer Report".
Ian Pressnell, Director of Plato Logic commented: "globally, the beer industry nevertheless continues to deliver steady volume growth." The "World Beer Report" also includes 2015 and 2020 consumption forecasts for over 200 individual markets. "We forecast global beer consumption to reach 2.4 billion hectolitres in 2020, according to our latest projections", continued Ian Pressnell.
China strengthened its position as the world's biggest beer market in 2007, achieving record sales of 387mhl. China's margin over the USA stretched to over 130 million hectolitres, with Russia in 'bronze medal' position.
Chart – Top 5 Global Beer Markets, 2007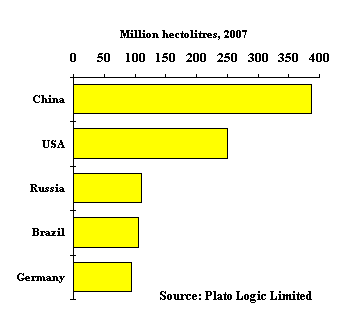 World's Leading Beer Markets, 2007, million hl (consumption)
Source: Plato Logic Limited.
Looking at 2007 in more detail, Plato Logic again found East Europe a key growth region, where volumes advanced by 11.6% in 2007, following 8.9% in 2006. The results from South America as a whole were again strong in 2007 (+6.6%), a fourth successive year of growth for the region. Africa recorded 8.7% growth in 2007.
Growth of PET
Further evidence of the dynamic nature of the global beer market can be found in the latest packaging and distribution trends. For example, the volume of beer sold in PET (including PEN) grew by about 20% in 2007. "We have also identified the global channel split, with around 68% of all beer volume now distributed through the take-home market", commented Ian Pressnell.
Top Brands
A Chinese brand is now in the top 3 for the first time, with Snow (range) separating the two Anheuser-Busch brands, Bud Light and Budweiser.
Chart – Top 10 Global Beer Brands (ranges)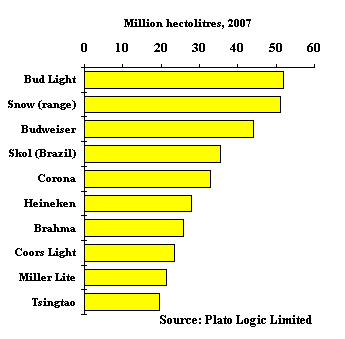 World's Leading Beer Brands, 2007, million hl
Source: Plato Logic Limited.
Note: Bud Light includes Bud range e.g., Dry, Ice
Published every year since 1994, the Plato Logic "World Beer Report" is a standard source of reference and is used throughout the international brewing and allied industries.